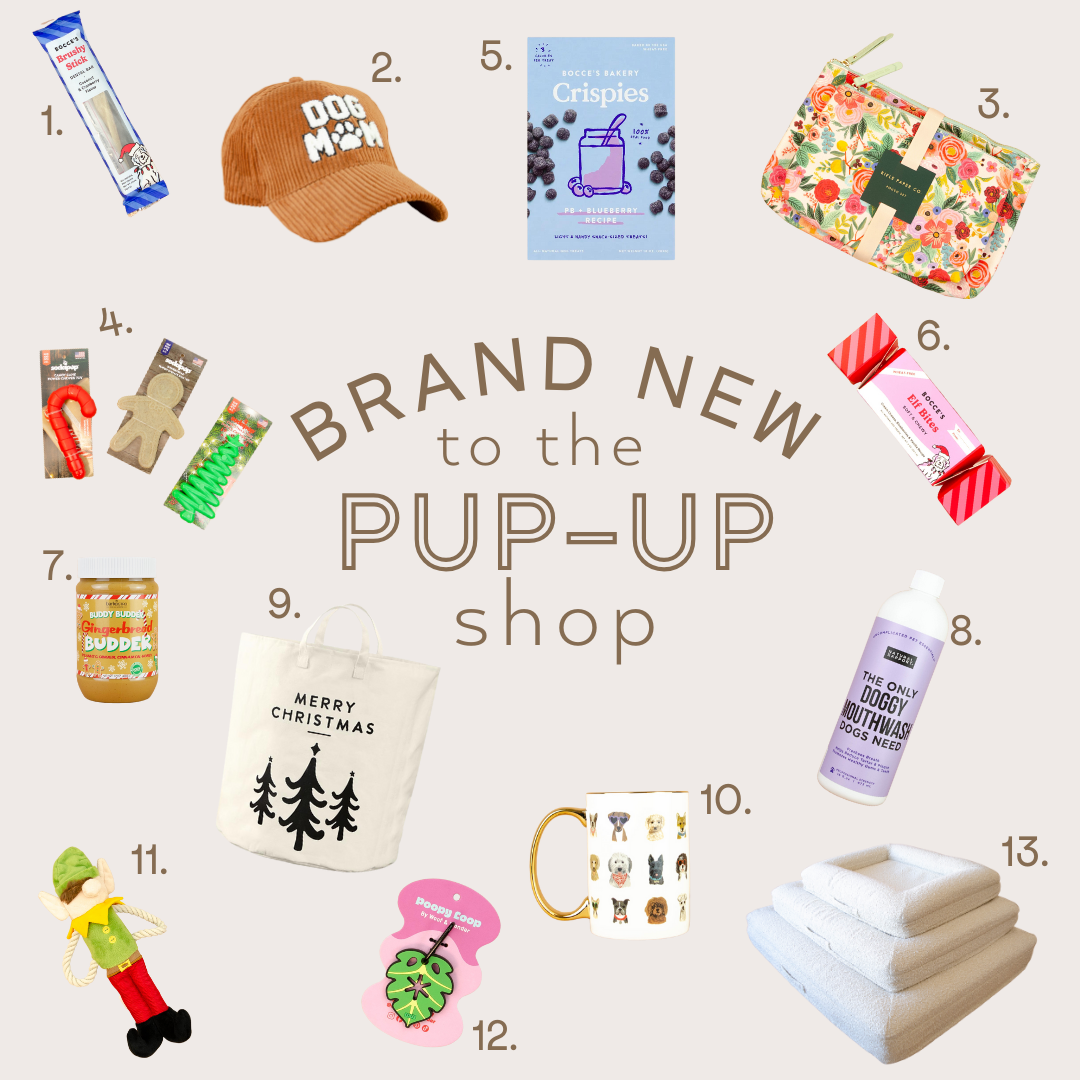 We've Been Busy Stocking The Pup-Up Shop!
Holiday gifting season is upon us and we've been busy sourcing, testing, photographing, and stocking our shop with the latest in pup related gear! These items were chosen with you and your loved ones in mind. Don't forget your furry loves ones this holiday season!
#1 - Bocce's Brushy Stick
Help your pup clean those pearly white with this delicious dental stick! It's a perfect stocking addition. Flavored with coconut and cranberry - you pup will go nuts for this treat!


#2 - Dog Mom Cordory Hat
Available in 3 colors - olive, cream and rust, this hat is a perfect fall staple for the pup-loving gal. At $16.99, this gift is a steal!

#3 - Rifle Paper Co. Pouch Set
Match your furry best friend or make everyone at the gift exchange jealous - whatever works for you. These pouches are a beautiful edition to anyone's vanity.


#4 - Power Chewer Holiday Toys
Is your dog a master of destruction? Ours too! But that's no reason to leave them out of the gifting fun! Spread some holiday cheer and give them more than just 5 min of fun with these festive toys. Even the most determined of chewers are no match for these toys!

#5 - Bocce's Crispies Freeze Dried Treats
These are a new fav around the office! The moment we let our dogs sample them they were instant fans! They are flying off the shelves in our store, and for good reason! They are the perfect size, non-greasy, and come in the cutest little cereal box. We humans haven't sampled them ourselves, but the dogs give them two paws up!

#6 - Bocce's Elf Bites Cracker
Oh come on! A cracker for dogs?! Yes, please! Don't forget to add this to your cart for the cutest little stocking stuffer we have ever seen!

#7 - Gingerbread Budder
Feeling a little sad about leaving your pup behind while you're off to the office holiday party? Leave them with this delicious treat. They will be more than busy enjoying this seasonal delight while you enjoy your own!


#8 - The Only Doggie Mouthwash Dogs Need
We all know our pups could use a little breath freshening. Not only does it freshen your furry friend's breath, but it also can promote healthy gums and teeth. Just add it to your pup's daily water. Treat your pup to the fresh breath that they deserve (and you secretly wished they had)!

#9 - Merry Christmas Giant Tote
Transport your holiday purchases in style, send your dog off to boarding with Christmas cheer, or tuck it under the tree for someone special. This total is not only beautiful, but serves so many purposes!


#10 - Rifle Paper Co. Porcelain Mug
Sip your cup of cheer in style with this gorgeous porcelain mug featuring all of the festive pups!


#11 - Santa's Little Elf-er Toy
Treat your pup to a Christmas take on a classic toy! Our Santa's Little Elf-er Toy will make your pup feel like they're in the North Pole with this tuggable and giggly playmate. This howliday toy is sure to become your pup's treasured companion!


#12 - Monstera Leaf Poopy Loop
Another great stocking stuffer idea for the pup lover in your life! The Poopy Loop Bag Holder is a great way to stay organized and keep your hands free. This bag holder is designed to fit most poop bags, and its adjustable strap ensures a secure fit. With its lightweight design it's the perfect accessory for an afternoon walk.


#13 - Luxury Boucle Dog Bed
When we unboxed these beds for the first time it was love at first sight for both ourselves AND our pups! This luxurious bed is anything but an eyesore, but also next-level plush for your pup! Want to really treat your pup this holiday season? We've got just the thing for you.